Pink Dolphin Tour,
3 days

Versión acelerada para celular
Precios & Reserva
Reseñas
Ubicación
Itinerario
Pink Dolphin Tour,
3 days
Comentarios recientes de este tour
No hay opiniones recientes.
Agrega una reseña:
Ubicación
Madidi National Park is located in the Northwest region of La Paz, in the provinces Franz Tamayo, Iturralde and Abel Bautista Saavedra, in the upper Amazon River basin; it is part of one of the largest protected areas in the world.
Itinerario:
Day 1
Rurrenabaque Reyes Totoral Eco Lodge.
We will start the journey traveling to Reyes town by 4x4 jeep, entrance to Totoral Ecolodge
The journey Will take approximately two hours in our route we Will pass by Baychuje indigenous community to finally arrive to Totoral Ecolodge
Arrival to Totoral eco lodge, we will enjoy a welcome snack with fresh fruit juice and lodging in the cabins
Lunch
Break
After a break we will start trekking by "Sloth path" along the route you will observe a large variety of birds, and different monkey species like: Cappuccino, howler, squirrell and specially we will observe the Sloth
Return to the lodge
Dinner
After dinner we will make a small walk by the path or by ther pampas to observe the night live and species in the jungle (Listening, and identification of the wild sounds concert) Optional activitie for the first or second night
Day 2
Pampas Albergue Totoral
Breakfast
Trekking by Porcupine path, visit to "Yomomal" Lagoon natural reproduction spot for caimans and alligators
Fishing at "Yomomal" Lagoon or in Yacuma River
Return by paddle boats, we will observe pink dolphins, alligators, capybara and much more
Small return walk towards Totoral Eco-lodge
Lunch
Break
Along the afternoon we will make a trekking by Matico path towards Yacuma River
We will start sailing on paddle boats by Yacuma River to observe a large variety of birds towards the Azurs habitat
Return to the eco-lodge by boat
Dinner
Day 3
Totoral Eco-lodge Reyes Rurrenabaque
Breakfast
Trekking by Duende Path along the route we will observe and identify a variety of medicinal plants, domestic use plants, and other varieties of plants, also we will observe other bird and animal species like the Toco toucan and tucancillos, etc
Lunch at the eco-lodge
Return to Rurrenabaque
END OF OUR SERVICES
Optional Day 3 by the afternoon and 4th night at eco-lodge
Horseback riding we will observe the sabana Eco system and the swamp stag habitat
Day 4
Optional along morning
Visit to Anaconda habitat in Marciano Lagoon, and fishing
Traditional activities cattle care, artisan cheese elaboration, and more
El tour incluye:
Transfer In/Out Rurrenabaque Airport
Transfer in 4X4 private jeep from Rurrenabaque to Totoral Eco lodge (3 hours journey Rurrenabaque -Reyes - baychuje- Totoral)
Lodging in rustic traditional cabins
Full board (national, international and vegetarian)
Mineral water along your stay in Totoral
Local bilingual guide (English - Spanish), experts in pampas - jungle interpretation
The tour doesn't include
Air tickets / bus La Paz - Rurrenabaque - La Paz
Entrance fee to Reyes Municipal Natural Reserve (International Bs. 100)
Lodging and board in Rurrenabaque town
Sodas and alcoholic beverages
Other services not mentioned in the program
Lugares turísticos cercanos: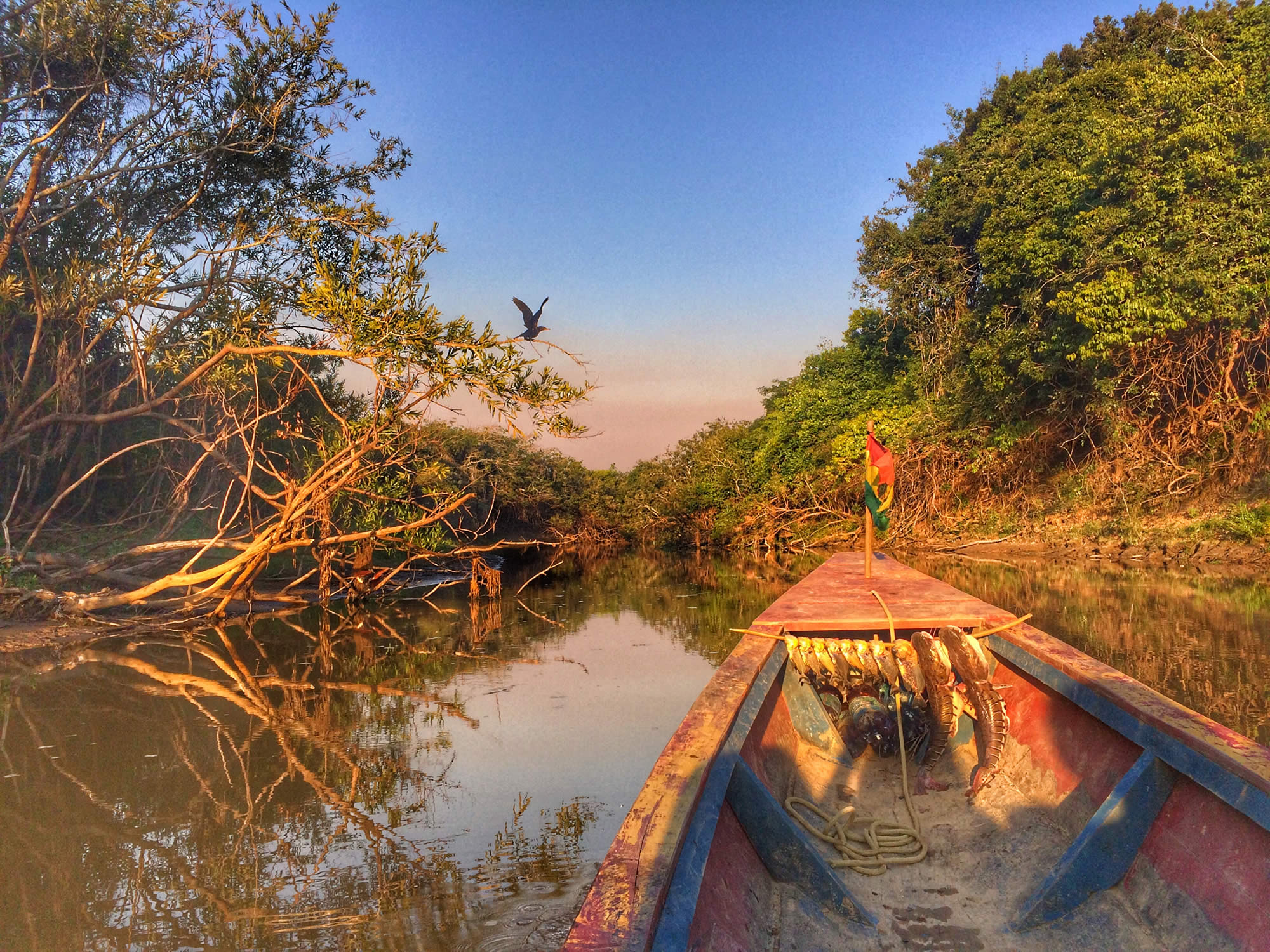 ---